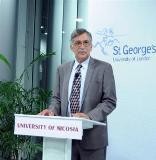 The 10th World Hellenic Biomedical Congress organized by the World Hellenic Biomedical Association in collaboration with the Medical School, the Cyprus Medical Association and the Institute of  Neurology and Genetics, Cyprus took place on November 22-25, 2012 at the premises of the University of Nicosia.
The scientific sessions focused on clinical genetics in neurology, metabolic syndrome, cancer, cardiovascular disease and innovative diagnostic and therapeutic approaches. The conference concluded with a roundtable discussion on the
interrelationship between psychiatric and rheumatological diseases. The conference attracted prominent Cypriot and Greek scientists from universities in Europe, the U.S.A., Cyprus and Greece. Additionally, young researchers from these countries and the Middle East participated.