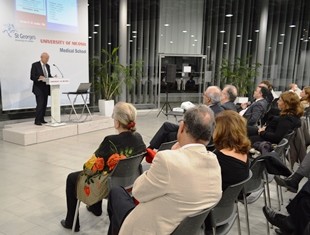 The  'Charis Fessas Memorial Lecture in Cardiology' which has been established by our School together with the Cyprus Society of Cardiology last year, took place on 21st November 2013 in the Medical School library.  This annual memorial lecture is in honour of the late Dr. Charris Fessas, a founding member and president of the Cyprus Society of Cardiology and an avid supporter of the Medical School.
Keynote speaker,  Professor Dennis V. Cokkinos delivered his speech titled 'The Interaction of Research and Clinical Practice in Cardiology'.
The event was kindly sponsored by Medochemie.