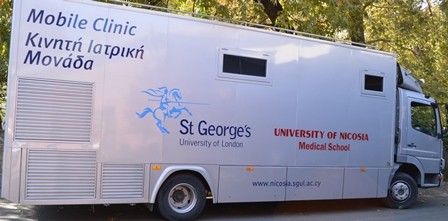 On Saturday 2nd of November a successful outreach event to the Troodos mountain communities of Kampos and Tsakistra marked the inauguration of our Mobile Clinic.
A team of seven T-year student volunteers, under the guidance of clinical faculty, carried out blood pressure, glucose and spirometry tests for the elderly population of these villages.
The event was a success, the inhabitants of both villages were very pleased and our students gained invaluable experience while at the same time enjoyed beautiful parts of the Cyprus countryside.
''It was a great experience, everyone we saw was very appreciative of what we were doing, they were very enthusiastic.  Personally I liked the fact that we were able to do something that although for us was very basic, like blood pressure measurements, glucose readings, spirometry,  however for those individuals it meant a lot.''
''For me it was a really good opportunity to get out of the classroom, get out of the city and just experience the mountains and spend sometime in the communities.  I also got the opportunity to work with my classmates and work alongside the doctors that have been educating me for the last 2 years.  I hope we do it again – it definitely gave me another avenue to look at how medicine integrates into communities and into the villages and to try something that felt a  more like a rural type of approach to medicine, which was great.''
''It was nice that we went to the villages.  The people seemed very happy to have us there, they were very welcoming and we were offered home-made sweets.  Overall it was a special experience being there and it gave us a chance to practise both our clinical and communication skills with the specific population.'