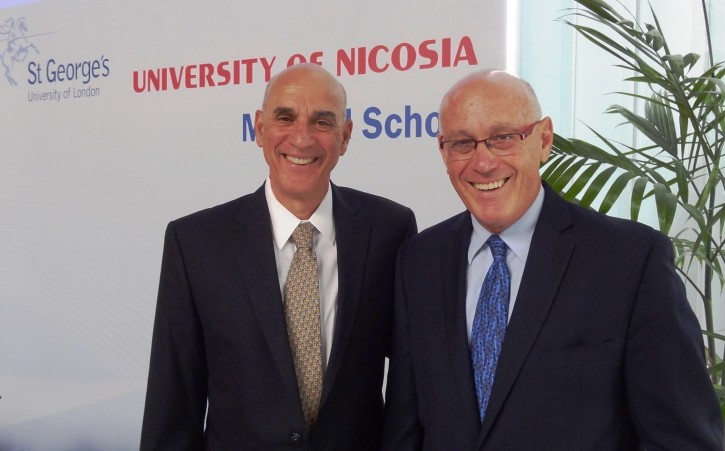 The Medical School hosted yesterday a seminar titled 'The Israeli experience in Research and Development: A Model for the Cypriot Economy'.  The event was under the auspices of the President of Cyprus and the Embassy of Israel in Cyprus, and it attracted a large audience of researchers, academics, doctors, businessmen and government officials.
Prof. Yehoshua Gleitman, who is considered the father of high-tech industry and innovation of Israel and also serves as a consultant on innovation for the World Bank, explained the financial difficulty his country faced in the 1980s when inflation reached 1,000% and how the idea for ​​setting up a high-tech industry surfaced. That decision helped the country to rise out of the economic doldrums and as a result today Israel has one of the most vibrant economies worldwide. He talked about the importance, role and coordination between the state and the private sector and how the R&D industry is safeguarded by law so as not to be affected by the particular administration in power at any given time.  He went on to say that currently Israel spends 4.6% of its GDP on R&D, the highest proportion worldwide.
Prof. Shlomo Noy, Vice President for R&D at the Sheba Medical Center in Israel, began his presentation by illustrating the success story of three partners – St George's, University of London, the University of Nicosia, and the Sheba Medical Center – in establishing the first medical school in Cyprus. He then talked about the field of bio-medicine and Sheba's experience in R&D.   Among other things he stressed  the importance of establishing a centralized infrastructure and a reference point for researchers (a one-stop shop) providing information on issues such as patents, intellectual property, and others.
Prof. Philippos Patsalis, Chief Executive Officer at the Cyprus Institute of Neurology and Genetics (CING) and the School of Molecular Medicine in Cyprus, highlighted the opportunities and potential that exist in Cyprus for R&D.  He presented CING's success when they developed and tested a new and innovative non-invasive prenatal diagnostic test for Down syndrome.
A lively question-and-answer session followed, coordinated by the Director General of the Cyprus Planning Bureau, Mr George Georgiou.