The Medical School and Swedish Covenant Hospital have strengthened their long-term strategic partnership in international medical education through the establishment of a permanent presence for the school in Chicago and the expansion of clinical placements.
The Medical School's local student support, welfare and quality assurance services will be based in a medical education suite at Swedish Covenant Hospital starting this August, which will provide a one-stop centre for our students in Chicago.
In addition, the Medical School and Swedish Covenant Hospital have announced the expansion of clinical training places from 50 to 90 for each academic year, starting in the summer of 2017.  This means Swedish Covenant Hospital will provide clinical training for up to 45 students in each cohort, starting with the class entering the Medical School this September.
With these developments, Swedish Covenant Hospital will serve as the hub for all medical education activities in North America, under the direction of Dr Derek Kelly, Chief Medical Officer of Swedish Covenant Hospital and our Clinical Dean for North America.
To give prospective students an opportunity to tour Swedish Covenant Hospital's facilities and meet with faculty and current students, we will be hosting a series of Open Days.  The first such event is on Tuesday, 7 July at 4 pm.  Speakers will include Prof Andreas Charalambous, Executive Dean of the Medical School, and Dr Derek Kelly. The venue is Swedish Covenant Hospital, Medical Education Dept., Anderson Pavilion, 2751 W Winona (SE corner of Winona/California), Chicago, Illinois. If you would like to attend, please RSVP to[email protected] so we may save you a seat.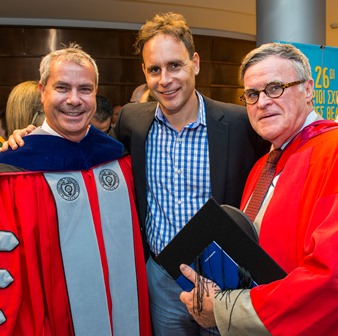 Executive Dean Prof Andreas Charalambous (left), Medical School Board member Gregg Rosenthal and Dr Derek Kelly (right), Chief Medical Officer of Swedish Covenant Hospital and our Clinical Dean for North America, at the graduation ceremony in Nicosia on 15 May