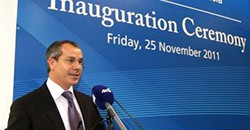 The first medical school in Cyprus – the St George's, University of London Medical Programme at the University of Nicosia – was officially inaugurated on 25 November at a ceremony attended by the Cyprus Minister of Education and Culture, Giorgos Demosthenous, as well as by representatives of the country's medical and academic communities.
Guests at the ceremony had an opportunity to view the medical school's new, purpose-built facilities and meet its first students, who started the course in September. These students come from a wide range of countries, including Cyprus, the United States, Canada, Lebanon, Israel, the UK, Greece, other EU states and even as far as Australia and New Zealand.
The Minister of Education, Mr. Demosthenous, congratulated the University of Nicosia on its achievements and added: "I also wish to congratulate and thank from the bottom of my heart the academic authorities of St George's, University of London, for the great honour they have bestowed not only on the University of Nicosia but also on our country through their collaboration in this medical programme in Cyprus."
Addressing the students, Professor Peter Kopelman, Principal of St George's, noted that they are trailblazers by entering the first medical programme in Cyprus, and that he anticipated the programme will make a significant contribution to health professional training in Cyprus and to the health of the population.
The Executive Dean of the medical school, Dr. Andreas Charalambous, highlighted: "We are all here for our students, to produce new generations of well-trained and humanistic physicians, and for making positive contributions to medicine in Cyprus and the region, through education, post-graduate training, research and service."
Students in the medical programme at the University of Nicosia are considered students of St George's, one of the UK's leading medical schools. Further details about the St George's programme at the University of Nicosia can be found at
www.nicosia.sgul.ac.cy
 or by calling +357 2247 1900.